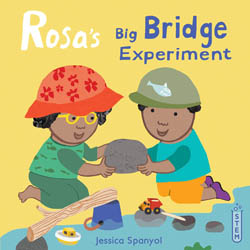 Rosa's Workshop- Rosa's Big Bridge Experiment
What is a bridge? Rosa and her friends investigate, using critical thinking and the objects found on the beach around them. There are many kinds of bridges but not all of the ones they make are sturdy! Can they apply what they have learned when Rosa's pet dog finds himself stranded?
Jessica Spanyol gained a MA in illustration with a distinction from the Royal College of Art in 1993. Jessica's first Children's book Carlo likes Reading was published in 2001 and was based on a book she wrote when she was 6 and a half years old. As a child, Jessica struggled with learning to read.