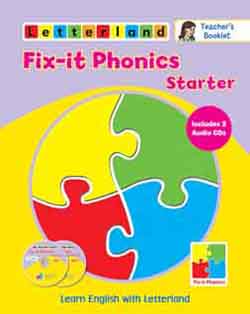 Fix-it Phonics Starter Teacher's Pack
The Fix-it Starter Level provides a great foundation in attentive listening skill, confidence in making sounds, and an introduction to basic English vocabulary. Activity Book 2 includes a first introduction to letter sounds and actions The Teacher's Pack includes a guide full of useful information.
Lyn Wendon, the creator of Letterland, was born in her grandmother's international school in Florence, Italy. Lyn grew up in the USA and went to school in Canaan and Greenwich, Connecticut. She later gained a BA from Wellesley College. She moved to the UK in 1955 and still lives there now.