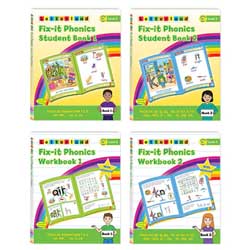 Fix-it Phonics Level 3- Student Pack
Each student will need their own Student Book and Workbook to complete the course. With more songs, chants, and role-play activities as well as a built-in assessment per child as a certificate of completion. The workbooks allow students to master their writing skills and consolidate learning.
Lyn Wendon, the creator of Letterland, was born in her grandmother's international school in Florence, Italy. Lyn grew up in the USA and went to school in Canaan and Greenwich, Connecticut. She later gained a BA from Wellesley College. She moved to the UK in 1955 and still lives there now.